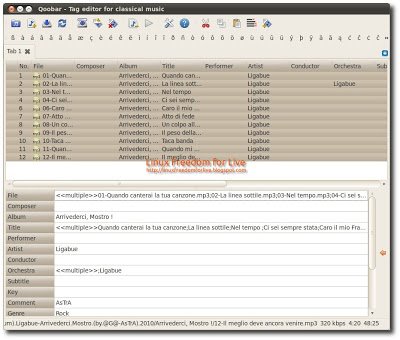 Qoobar è una semplice applicazione per editare manualmente i tags dei propri file musicali; correggere e completare automaticamente i tags dei propri files audio.
Inoltre Qoobar, e sopratutto indicata per editare Tag su Musica Classica, difatti troveremo già impostati i dati per inserire Orchestre, Direttori, ecc
Utilizzare l'applicazione è molto semplice basta cliccare su "Add Directory" e selezionare i file o un'intera cartella, tutti i file da noi scelti verranno visualizzata nell'apposito spazio, ora possiamo modificare o ciascun file o tutti insieme, Per Salvare le nostre modifiche sui file basta cliccare su "Rename Files" ed ecco i nostri tag modificati.
Le novità della nuova versione 1.3.1:

Fixed: the cover art panel now correctly updates.
Added the Italian translation.
Added the French translation.
Now you can change the interface language without restarting Qoobar.
Added the ability to save id3v1 tags into mp3 files.
Added the support of these tags: Disc #/Total discs, Encoded by, Remixed by, ISRC, Album artist, URL, Rating.
Added tags importing from Musicbrainz.
Some bugs fixed.
Added the ability to change the chars list font.
Now you can number the tracks from the Tags table.
Added the ability to fill tags from other tags.
Now you can quickly fill a tag in the Edit dialog.
Added the ability to change the case of filenames when renaming files.
Added the ability to split a disc image by the corresponding cue sheet.
Per installare Qoobar su Ubuntu o Debian basta scaricare il pacchetto dai link posti sotto e cliccarci sopra e confermare.
home
download qoobar_1.3.1-1_i386.deb
download qoobar_1.3.1-1_amd64.deb