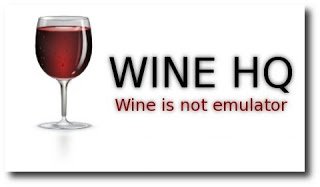 A distanza di pochi giorni dalla versione precedente il team di Sviluppo di Wine ha rilasciato la nuova versione 1.3.6. Nella nuova versione Wine 1.3.6 sono stati corretti oltre 70 bug, e porta con se qualche integrazione degna di nota. E' stato difatti introdotto il supporto ai filtri di GStreamer, alla mappatura dei cursori standard per i cursori nativi, ed inoltre è stato migliorato l'installer dei servizi nonchè ad MSXML.
Le novità della nuova Wine 1.3.6:

Support for GStreamer filters.
Mapping of standard cursors to native desktop cursors.
Improved support for installers with services.
Many MSXML improvements.
Decoder for TGA-format images.
Translation updates.
Various bug fixes.
Per installare o Aggiornare Wine 1.3.6 su Ubuntu 10.10 Maverick utilizzeremo i PPA Wine per farlo basta avviare il terminale e scrivere:
sudo add-apt-repository ppa:ubuntu-wine/ppa
sudo apt-get update
sudo apt-get install wine1.3
Confermiamo ed ecco Wine installato/aggiornato