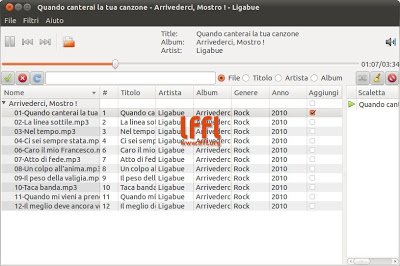 CometSound è un player audio minimale scritto in python, utilizzando le librerie pygtk e gstreamer. I formati audio supportati da CometSound sono Mp3, Wav, Ogg e Flac, permette creare playlist ed inserire tag ID sui file Mp3 e Wav per ogni brano.
L'interfaccia grafica di CometSound è decisamente immediata, priva di inutili orpelli estetici. Però può risultare grezza e povera agli occhi di molti utenti. Nella nuova versione 0.1.3 è presente anche l'utile tray icon per ridurre il player nell'area di notifica mentre è inutilizzato o in riproduzione. Un pregio di CometSound è la sua estrema leggerezza. Un fattore che influisce positivamente sulla velocità. CometSound si apre in pochissimi secondi, non si blocca ed è reattivo anche sui computer più datati.
Le novità della nuova versione 0.1.3:

New feature: now is possible to save a playlist and open it directly from the main menu
Bug fixies and improvements related to notifications, search box, languages, status icon
Molto semplice anche l'installazione difatti per installare CometSound su Ubuntu o Debian e derivate basta scaricare QUESTO pacchetto, cliccarci sopra e confermare
Ringrazio Attilio per la segnalazione.