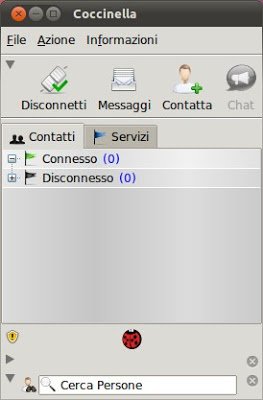 Coccinella è un'applicazione specifica per chattare con i nostri amici con la qualità di supportare molti protocolli, ad esempio ICQ, MSN, Google Talk e anche Apple iChat e Nokia Chat, e Facebook. L'applicazione permette di effettuare delle chat di gruppo, inserire avatar e emoticons personalizzate, trasferire file, fare chiamate VoIP, ecc.
Le novità della nuova versione 0.96.20:
Key in this release is the ability to automatically reconnect if the connection to the server has been interrupted. Other changes: verification of server certicate, speed improvements, 64-bit support, better detection of file names, and more
Per installare / avviare Coccinella su Ubuntu – Debian – Fedora – openSUSE basta scaricare il file .tar.gz dal link posto sotto ed estrarlo in una cartella.

Avviamo il terminale e rechiamoci dentro la cartella dove è stato precedentemente estratto il file e scriviamo:
./Coccinella-0.96.20.bin
facendo questo avremo il nostro Coccinella avviato.
Per semplificarci i futuri avvi consiglio di crearci un lanciatore o un collegamento con il nostro menu.
download Linux
download Coccinella-0.96.20Linux-x86.tar.gz
download Mac Osx
Coccinella-0.96.20.dmg
download Windows
Coccinella_Messenger-0.96.20Win.zip