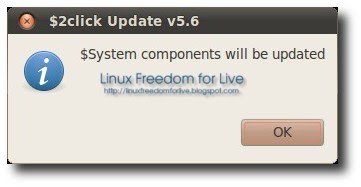 2click Update è un semplice script per Ubuntu, grazie al quale potremo aggiornare la nostra Distribuzione con estrema facilità e sicurezza. Utilizzando la potenza di "apt-get" accelera l'aggiornamento del sistema operativo e programmi installati senza visualizzare i messaggi di conferma, inoltre pulisce il disco di tutti i file generati da procedure di aggiornamento.
Le novità della nuova versione 6.0:

New feature: RamCleanApt, which optimizes RAM memory freeing up some MB's.
Redesigned User interface in 2Click Update
One time request of administrator password, is applied in this version, removing
sudo from entire code
Removed some Obsolete Code
New feature: DEBUGGING mechanism introduced for experienced users to see whats
happening in the backround when 2clickUpdate is running through terminal.
New feature: SMART_APT module introduced. Installing/Upgrading is now based on
Per installare 2click Update 6.0 su Ubuntu basta scaricare QUESTO pacchetto, fare un doppoclick su di esso e confermare.