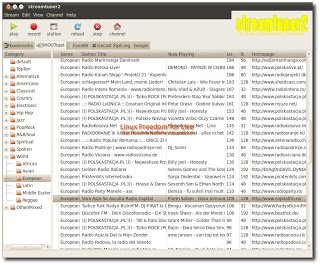 Streamtuner2
  è un'applicazione che permette esclusivamente di
ascoltare la radio in streaming 
ed è anche possibile
registrarla
tramite
streamripper
. Una volta avviato ci permetterà' di scartabellare tra le varie "
radiodirectory
" dei canali come
SHOUTcast
,
Live365
,
Xiph.org
,
googlestation
,
punkcast.com
. L'interfaccia in
GTK
e' molto semplice, attraverso dei tab si seleziona una
radiodirectory
a scelta, questa a sua volta contiene cartelle che suddividono la musica in vari generi, una volta scelto il genere a noi piu' congeniale sul frame principale comparirà' una lista delle radio inerenti, doppio clik su quella scelta ed ecco che
streamtuner
sintonizza il nostro
player
sul canale giusto(in verità' di default
streamplayer
fa riferimento ad
audaucious
, ma attraverso il menu' di configurazione e' molto semplice cambiarlo col nostro preferito)
Le novità della nuova versione:

· This release brings minor bugfixes.
· The pyQuery parsing mode of Shoutcast has been adapted to its latest changes.
· The double escaping for %pls audio player parameters has been corrected.
· Interpolating of meta %fields is now possible for use with external recording wrapper scripts.
· A new plugin for MP3 file browsing is now available, though tag editing is unfinished and it's a separate download.
Per installarlo su Ubuntu e Debian basta scaricare QUESTO pacchetto, cliccarci sopra e confermare. o in alternativa avviamo il terminale e scriviamo:


wget http://milki.erphesfurt.de/streamtuner2/streamtuner2-2.0.8.deb
sudo gdebi streamtuner2-2.0.8.deb
e avremo la nostra applicazione installata / aggiornata. E' disponibile anche il pacchetto .rpm (per Fedora openSUSE e Mandriva) accessibile da QUESTA pagina