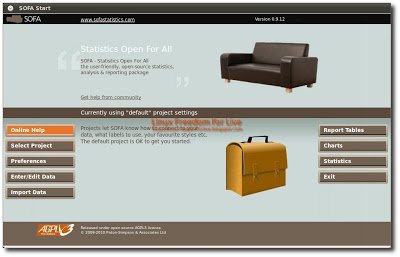 SOFA Statistics  è un'applicazione per effettuare statistiche di ogni genere. Tra le caratteristiche più importanti dell'applicazione troviamo la facilità d'utilizzo garantendo ottimi risultati e tool innovative che troviamo in altre applicazioni commerciali.
Le novità della nuova versione 0.9.18:
Beautiful Line and Area Charts with dynamic eye candy.
Smaller javascript file for faster loading of charts.
Added y-axis labelling to charts.
Beautiful Histograms and Scatterplots added.
Support charts for statistical tests now themable like main output charts.
Tool tips now display arrows (with border colour controlled by selected theme).
Charting dialog devotes more space to displaying chart output. Simplified interface design.
Charts give sensible message if no data (perhaps because of filtering). X axis labels for clustered bar charts and multiple line line charts where legend doesn't provide the same label.
Per installare SOFA Statistics 0.9.18 su Ubuntu 10.04 – 9.10 dobbiamo prima integrare il pacchetto python-webkitwx nella nostra Distribuzione per farlo avviamo il terminale e scriviamo:
Per Ubuntu 10.04 Lucid
sudo wget http://www.vislab.uq.edu.au/debuntu/sources.list.d/lucid.list -O /etc/apt/sources.list.d/uqvislab.list && wget http://www.vislab.uq.edu.au/debuntu/uqvislab-pubkey.asc && sudo apt-key add uqvislab-pubkey.asc && sudo apt-get update && sudo apt-get install python-webkitwx

Per Ubuntu 9.10 Karmic
sudo wget http://www.vislab.uq.edu.au/debuntu/sources.list.d/karmic.list -O /etc/apt/sources.list.d/uqvislab.list && wget http://www.vislab.uq.edu.au/debuntu/uqvislab-pubkey.asc && sudo apt-key add uqvislab-pubkey.asc && sudo apt-get update && sudo apt-get install python-webkitwx

Ora Scarichiamo QUESTO pacchetto e clicchiamoci sopra e confermiamo e al termine avremo il nostro SOFA installato.

home SOFA Statistics