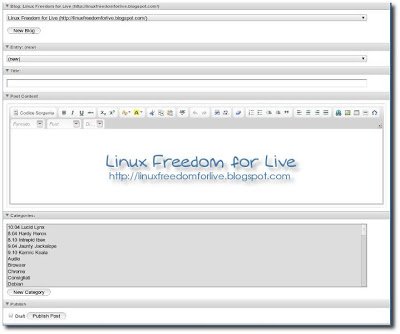 Scribefire è un'ottima estensione per  Google Chrome e Firefox che ci permette di scrivere post dal browser, senza accedere al pannello di controllo del blog o sito. Come ogni editor WYSYWYG minimalista che si rispetti anche ScribeFire offre le funzioni di Base, troviamo il grassetto, corsivo, sottolineato [..],gli elenchi puntati, numerati, il bottone per l'inserimento dei links e la visualizzazione del codice Html.
Gli utenti WordPress saranno particolarmente contenti nel trovare un pieno supporto alle categorie ma non dimentichiamoci che è contemplato anche l'editing delle pagine, trasformare allora la pagina dei contatti oppure la sezione About diventa un'operazione velocissima e ci dimenticheremo presto della odiata-amata Dashboard.
 
Ecco le novità della nuova versione 1.4.0.0:
Added support for excerpts
Cleaned up the date fields for scheduling posts
ScribeFire now saves drafts locally if the blog doesn't support saving them on the server; they're referred to as "Local Drafts"
Post content is now kept in the editor after publishing a post
Better handling of invalid responses from blog APIs
ScribeFire now saves drafts locally if the blog doesn't support them
Fixed manual blog setup
Fixed bug affecting HTML inside PRE tags
Fix to workaround buggy blog APIs
Per installarlo su Google Chrome basta andare QUI e cliccare su Installa e confermare.
Per installarlo su Firefox basta andare in QUESTA pagina.
home: QUI