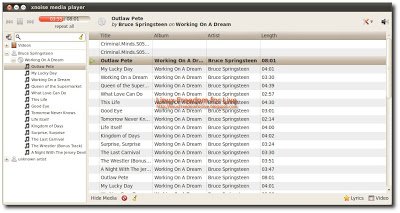 XNOISE è un lettore multimediale, leggero e con molte funzionalità. La principale caratteristica dell'applicazione è la possibilità di riprodurre file video e audio, accodarli in un'elenco e essere avviati indipendente dal formato. I brani/file possono essere riordinati in qualunque momento tramite drag and drop.  Il browser media (sul lato sinistro della finestra) contiene tutti i media disponibili in una struttura gerarchica ad albero dei metadati disponibili. E 'facile trovare un solo brano, artista o album o per passare attraverso questo albero solo inserendo un termine di ricerca.
Ecco le novità della nuova versione 0.1.11:
create a new playlist handling library (libplaylist)
add fast forward within track on progressbar scroll
change track on trayicon scroll
add mediabrowser automatic linebreaks
fix available size calculation in tracklist
save tracklist column positions and relative width
make some tracklist columns optional
fix font issue in tracklist
open locations dialog
use tooltip on mouseover for trayicon showing metadata
show plugin descriptions in plugin manager
add hebrew and spanish translation
hide mouse pointer when fullscreentoolbar is hidden
redraw videoscreen as soon as albumcover has arrived
reload album images that have been removed from hdd
use spacebar key for play/pause in fullscreen mode
improve logo visibility
fix screensaver handling while track paused, fixes issue #47
honor XDG_CONFIG_HOME environment variable
more bug fixes

Per installare Xnoise 0.1.11  su Ubuntu 10.10 Maverick – 10.04 Lucid basta avviare il terminale e scrivere:
sudo add-apt-repository ppa:shkn/xnoise
sudo apt-get update
sudo apt-get install xnoise xnoise-plugins-core
e confermare.
In caso di future nuove versioni ci basterà aggiornare la nostra Distribuzione.