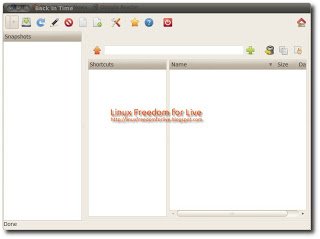 Back In Time è un semplice software che permette di creare backup, comprimere i file, codificarli ed eseguire il restore in maniera facile e veloce. Grazie a questo software l'utente può creare delle copie di sicurezza dei dati personali in modo da poterli ripristinare in caso di necessità. Possiamo creare Backup personalizzati ad ogni ora o giorno o mese e tutto con estrema facilità sia di creazione backup che di ripristino.
Le novità della nuova versione 1.0 di Back in Time:
· Multiple profiles support. Expert options: copy unsafe links and copy links.
· Custom backup hour (for daily backups or mode).
· Many bugs have been fixed.
· ionice support for the user/cron backup process.
· The backintime snapshot folder has been restructured to ../backintime/machine/user/profile_id/.
Per installare la nuova versione 1.0 di Back in Time su Ubuntu 10.04 e 9.10 dobbiamo aggiungere i PPA ufficiali Back in Time per farlo avviamo il terminale e digitiamo:
sudo add-apt-repository ppa:bit-team/stable
sudo apt-get update

Per Ubuntu
sudo apt-get install backintime-common backintime-gnome

Per Kubuntu
sudo apt-get install backintime-common backintime-kde4
e avremo il nostro Back in Time installato / aggiornato