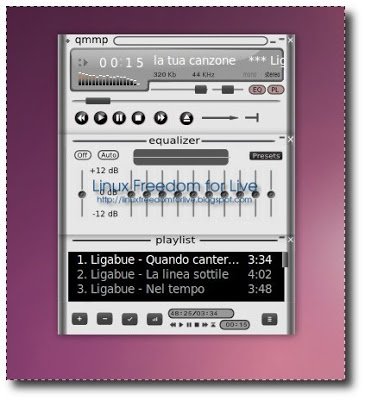 Qmmp (Qt based Multimedia Player) è un player audio realizzato con il toolkit Qt, tra le principali caratteristiche troviamo la compattezza, leggerezza e semplicità d' uso. Permette di usare le skin di winamp and xmms ed è organizzato a plugins.
Ecco le novità della nuova versione 0.4.2:
added Japanese translation;
added Spanish translation;
added offset support into mplayer plugin;
updated German translation;
updated Polish translation;
fixed build scripts;
fixed shorten playback;
fixed freezes on corrupted files;
fixed problem with UDS under freebsd;
fixed oss delays;
fixed possible freezes with mplayer plugin;
fixed problems with some video files ;
fixed lyrics plugin (due api changes);
fixed template parsing;
optimized tag editor form;
removed deprecated functions from jack plugin

Per installarlo su Ubuntu 10.04 – 9.10 basta avviare il terminale e scrivere:
sudo add-apt-repository ppa:stiff.ru/qmmp-releases
sudo apt-get update
sudo apt-get install qmmp
e confermiamo al termine avremo il nostro Qmmp installato.