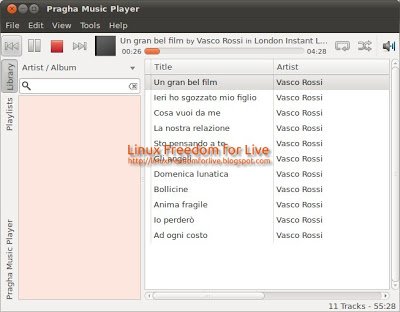 Pragha è un semplice player musicale, basato su GTK, SQLite, e completamente scritto in C, prodotto per essere veloce, leggero, e allo stesso tempo completo. Pragha era originariamente derivato di Consonance Music Manager,  Interrotta dall'autore originale.
Ecco le principali novità della nuova versione 0.8.2:
News:
    Add filename entry to tag editor dialog with a open folder icon.
    Add Details button to tag editor dialog that open the properties dialog.
    Update current playlist when edit tags.
    => No More eliminate the edited tracks => Not more lost in queue list when you
       edit a file!, & NOT lose the currently played song!, and a tiny more speed.
Others Changes:
    Add VERY basic session management support.
    Add spinner when update/rescan music db if Gtk >= 2.20.
    Add folder label to properties dialog.
    Grab focus when clear entrys.
Updates Translations:
    Update de, es, and ru tranlations.
    Update po files.
Bugs fixed:
    Fix small spelling mistake. thank to c_k…@gmx.de.
    D'Oh!. Add Dutch translatition in subversion.
    Initialized pointers!.
    Remove unused vars.
Per installare Pragha 0.8.2 su Ubuntu 10.04 Lucid e 10.10 Maverick basta scaricare il file .deb dal link posto sotto cliccarci sopra e confermare
Per Ubuntu 10.10 Maverick

pragha_0.8.2-1~lffl~maverick~ppa_i386.deb
pragha_0.8.2-1~lffl~maverick~ppa_amd64.deb
Per Ubuntu 10.04 Lucid
pragha_0.8.2-1~lffl~lucid~ppa_i386.deb
pragha_0.8.2-1~lffl~lucid~ppa_amd64.deb
In alternativa possiamo installare l'applicazione anche tramite repository LffL Extra Lucid e Maverick per farlo basta avviare il terminale e scrivere:
Per Ubuntu 10.10 Maverick
sudo add-apt-repository ppa:ferramroberto/maverickextra
sudo apt-get update
sudo apt-get install pragha
Per Ubuntu 10.04 Lucid
sudo add-apt-repository ppa:ferramroberto/extra
sudo apt-get update
sudo apt-get install pragha
confermiamo e alla fine avremo il nostro Pragha installato / aggiornato