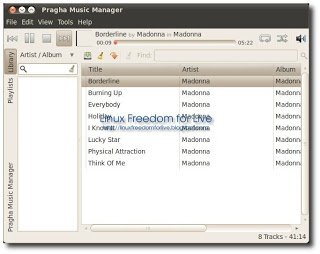 Pragha è un semplice player musicale, basato su GTK, SQLite, e completamente scritto in C, prodotto per essere veloce, leggero, e allo stesso tempo completo. Pragha era originariamente derivato di Consonance Music Manager,  Interrotta dall'autore originale.
Ecco le principali novità della nuova versione 0.8.1:
Add Translate Pragha (Link to Transifex) in Help menu.
New "Associate notifications to system tray" option.
New "Show Album art in notifications" option.
New "Add actions to change track to notifications" option.
Per installare Pragha 0.8.1 su Ubuntu 10.04 Lucid e 10.10 Maverick basta scaricare il file .deb dal link posto sotto cliccarci sopra e confermare
Per Ubuntu 10.10 Maverick
pragha_0.8.1-1~lffl~maverick~ppa_i386.deb
pragha_0.8.1-1~lffl~maverick~ppa_amd64.deb
Per Ubuntu 10.04 Lucid
pragha_0.8.1-1~lffl~lucid~ppa_i386.deb
pragha_0.8.1-1~lffl~lucid~ppa_amd64.deb
In alternativa possiamo installare l'applicazione anche tramite repository LffL Extra Lucid e Maverick per farlo basta avviare il terminale e scrivere:
Per Ubuntu 10.10 Maverick
sudo add-apt-repository ppa:ferramroberto/maverickextra
sudo apt-get update
sudo apt-get install pragha

Per Ubuntu 10.04 Lucid
sudo add-apt-repository ppa:ferramroberto/extra
sudo apt-get update
sudo apt-get install pragha
confermiamo e alla fine avremo il nostro Pragha installato / aggiornato