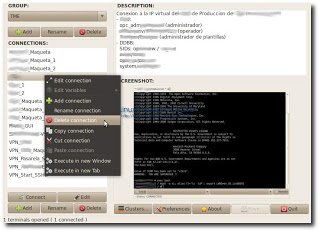 PAC  è un'applicazione specifica per gestire al meglio le nostre connessioni SSH. Fornisce un'interfaccia grafica per configurare le connessioni SSH/Telnet, supporta l'invio di comandi remoti con Expect e consente di scrivere macro locali o remote per l'automatizzazione delle operazioni. Possiamo anche inviare gli stessi comandi a tutte le macchine del cluster e creare tab o finestre separate per le connessioni.
Ecco le novità della nuova versione 2.4.1.3:
A bug regarding the Advanced Options in SSH configuration was fixed. A GUI modification was made to allow smaller main window sizes for low resolution screens.
Per installarlo su Ubuntu e Debian basta scaricare QUESTO file .deb  cliccarci sopra e confermare oppure aprire il terminale e scrivere:
wget http://sourceforge.net/projects/pacmanager/files/pac-2.0/pac-2.4.1.3-all.deb/download
sudo gdebi pac-2.4.1.3-all.deb

confermiamo e alla fine avremo il nostro Pac Manager installato.