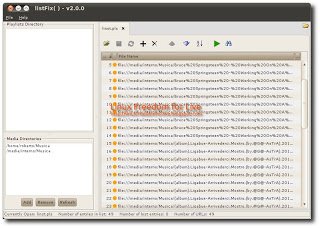 listFix()
è una semplice applicazione con il quale possiamo gestire le nostre
playlist
. Basta selezionare la nostra cortella contenente i nostro file musicali, selezionare la nostra vecchia
playlist
e lasciare a
listFix()
faccia il resto. Possiamo pubblicare le nostre
playlists
, rimuovere i file duplicati, copiare le canzoni da una playlist ad un altra con un semplice click.
Le novità della nuova versione 2.0.0:
New tabbed interface, have multiple playlists open at the same time
Found status now indicated by colored icons
New batch repair interface that allows in-place editing of batch repaired lists
Batch repair of playlists stored in winamp's media library!
Batch find closest matches to find all renamed missing files in a playlist at once
Playlist editor now supports multi-select; delete, move, & play multiple items at once
Simplified adding and sorting
Reload button to abandon changes to a list and reload from disk
PLS support
Per installare / avviare listFix() 2.0.0 su Ubuntu / Debian occorre aver precedentemente installato java, fatto questo avviamo il terminale e scriviamo:
wget http://sourceforge.net/projects/listfix/files/listfix/Version%202.0.0/listFix.2.0.0.jar/download
java -jar listFix.2.0.0.jar

e avremo la nostra applicazione avviata.