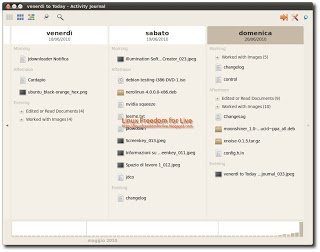 Gnome Activity Journal (Gui per Zeitgeist) è un'applicazione per facilitarci la ricerca dei file sulla nostra Distribuzione. Tra le principali caratteristiche troviamo un diario cronologico per gestire tutte le nostre attività svolte sui file il quale ne stabilisce relazioni tra i gruppi: tutte le informazioni sono memorizzate in un database centrale per un accesso rapido.
Se vogliamo vedere un filmato dimostrativo dell'applicazione basta andare QUI.
Le novità della nuova versione 0.5 di GNOME Activity Journal:
GAJ 0.5.0 brings improved start-up time and responsiveness, better support for Tomboy and websites (you need the Chromium/Firefox dataprovider for this) as well support for more dataproviders: bzr, chrome/chromium, emacs, eog, firefox, geany, gedit, rhythmbox, tomboy and vim. See the bottom of this page for the data providers installation instructions.
Per installarlo su Ubuntu 10.04 Lucid basta avviare il terminale e copiare quanto riportato sotto:
sudo add-apt-repository ppa:zeitgeist/ppa
sudo apt-get update
sudo apt-get install zeitgeist gnome-activity-journal
e installiamo il nuovo pacchetto GNOME Activity Journal 0.5  da QUI
al termine avremo il nostro GNOME Activity Journal installato
se l'applicazione non si avvia basta avviare il terminale e digitare:

zeitgeist-daemon –quit
zeitgeist-daemon &
e confermare
VIA | webupd8