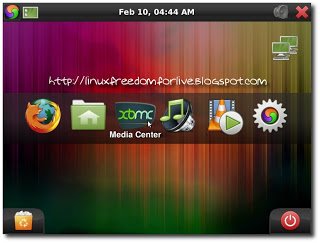 Element è una distribuzione basata su Ubuntu per l'Home theater o Media Center Personal Computer progettato per essere collegato ad un HDTV o su un Proiettore per visualizzare i nostri video, immagini, musica, internet ecc. Element per essere utilizzato anche come un PC, ciò che rende unica questa distribuzione è la sua speciale interfaccia utente, basato su xfce4, è davvero semplice da utilizzare e un aspetto completamente innovativo. Anche se la sua funzione principale è quella per la gestione di musica, video, foto, internet e media, la distribuzione comprende anche i principali applicazioni, come Firefox, Brasero, Transmission, Vlc ecc, per l'uso come un normale PC. Viene fornito con XBMC Media Center comunque è possibile aggiungere anche un sistema diverso come Boxee, Moovida o Hulu. Il progetto vanta anche la capacità di usare Element come una console di gioco con una centinaia di giochi disponibili.
Ecco le novità della nuova versione 1.4.0 tratte dal sito del produttore:

· Firefox Web Browser has been updated to version 3.6.8 and as usual configured for ten foot interfaces. Many people suggested we switch to Chromium, which unfortunately would need major UI rewrites so for now we are continuing to rely on Firefox, simply because from a usability standpoint it is much more friendly in a 10′ interface environment.
· E-Bar Editor has undergone a minor revision of its toolbar and some usability changes. You no longer have to remember to refresh before closing, if you've made changes to the bar it will now prompt you to refresh before exiting the editor.
· HDMI Audio Switch has underwent minor revisions and now displays your current settings and configurations. Remember you still have to enable your switches in the XFCE Mixer however.
· Element Slim Settings, labeled Login Settings in the menu is a new utility that includes the ability to switch between several login themes and enable AutoLogin functionality through a GUI. This is a feature our users have been asking for.
· Numerous orphaned and un-needed packages that may have been dependent on software that were in earlier Element versions has been removed. So even though the iso is still around 625MB the removed packages freed up space on for the above mentioned updates.
Se avviamo in modalità livecd digitare element come username e nessuna password e premere Invio