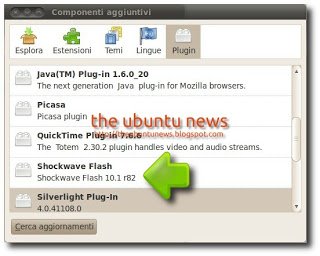 Adobe ha reso disponibile la nuova versione di Flash Plugin 10.1.82.76. La nuova versione include correzioni di bug e miglioramenti di sicurezza.
Ecco le novità della nuova versione 10.1.82.76 tratte dal sito del produttore:
· Critical vulnerabilities have been identified in Adobe Flash Player version 10.1.53.64 and earlier. These vulnerabilities could cause the application to crash and could potentially allow an attacker to take control of the affected system.
· Adobe recommends users of Adobe Flash Player 10.1.53.64 and earlier versions update to Adobe Flash Player 10.1.82.76.
Per installare/aggiornare Flash Plugin su Ubuntu basta scaricare il file .deb dal link posto sotto cliccarci sopra e confermare oppure aprire il terminale  e scrivere:


sudo gdebi install_flash_player_10_linux.deb
confermiamo e alla fine avremo il nostro Flash Plugin installato/aggiornato.
Inoltre possiamo installarlo anche da repository partner di Canonical per installarlo / aggiornarlo basta avviare il terminale e scrivere:
sudo add-apt-repository "deb http://archive.canonical.com/ lucid partner"  && sudo apt-get update &&  sudo apt-get install adobe-flashplugin

confermiamo e al termine avremo il nostro flash installato/aggiornato.

download Adobe Flash Player 10.1.82.76