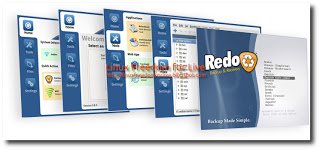 Redo Backup è un'ottima distribuzione che contiene numerosi ed affidabili strumenti di backup dotati di interfaccia grafica. Tra le principali caratteristiche della distribuzione troviamo la possibilità di essere utilizzata da Live CD o da penna USB, molto semplice da utilizzare bastano pochi click del mouse per salvare tutti i dati più importanti memorizzati sulla nostra Distribuzione. Tra le altre funzionalità troviamo il recovery di dati eliminati dal disco e la possibilità di accedere facilmente al Web per  tramite Mozilla Firefox.
Ecco le principali caratteristiche tratte dal sito del produttore:

    * Easy graphical user interface boots in less than a minute
    * No installation needed; runs from a CD-ROM or a USB stick
    * Saves and restores Windows and Linux machines
    * Automatically finds local network shares
    * Access your files even if you can't log in
    * Recover deleted pictures, documents, and other files
    * Internet access with Firefox to download drivers
    * Download size is less than 75MB
Le novità della nuova versione 0.9.5:
Massive performance improvements were made. Backups and restores now finish 4 to 5 times faster. A flexible safe video mode was implemented in the boot menu to ensure the widest possible video hardware compatibility. Partclone binaries were updated to the latest versions. The smartmontools "smartctl" utility was added to help monitor hard drive health. The isolinux/syslinux configuration files were merged into one for simplicity.