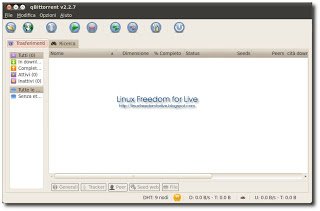 qBittorrent  è il client torrent simile uTorrent, tra le principali caratteristiche qBittorrent integra un motore di ricerca torrent in grado di lanciare ricerche simultanee sui più famosi motori di ricerca torrent, consentendo anche ricerche per argomento.
Ecco le principali caratteristiche dell'applicazione
    * interfaccia utente pulita e molto simile a quella di uTorrent
    * motore di ricerca torrent integrato
    * basato sul Qt4 toolkit e sulle librerie libtorrent-rasterbar
    * consente di attivare il controllo remoto attraverso interfaccia web
    * fornisce un meccanismo di controllo avanzato delle priorità su trakers, peers e torrent
    * supporta il port forwad basato su UPnP
    * fornisce funzioni che consentono di proteggere l'anonimato come ad esempio l' IP filtering

Ecco le novità della nuova versione:
I have just uploaded qBittorrent v2.4.0. It brings quite a few features and some of them were awaited by users for quite some time.
il changelog lo trovate QUI
Per installare / aggiornare l'applicazione su Ubuntu 10.04 Lucid apriamo il terminale e scriviamo:
sudo add-apt-repository ppa:hydr0g3n/ppa && sudo apt-get update
sudo apt-get install qbittorrent
e confermiamo.
In caso di future nuove versioni ci basterà aggiornare la nostra Distribuzione