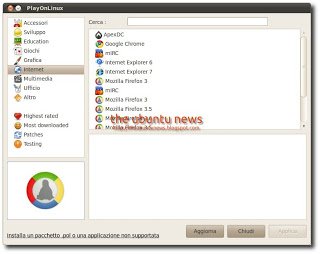 PlayOnLinux è un una semplice applicazione (scritta in Python) basata su Wine che ci permette di giocare a molti giochi nativi per Microsoft Windows. Oltre i giochi possiamo far "girare" sulla nostra Distribuzione anche i più importanti software per Windows e il tutto con estrema facilità. L'applicazione offre un elenco dei repository integrabili nell'applicazione accessibile da QUESTO  link
Ecco le novità della nuova versione 3.8 tratte dal sito del produttore:
Some plugins are now integrated in our software, adding a lot of features:
– Capture will allow you to record your games,
– Wine Import will allow you to add Wine apps into PlayOnLinux, and uses our features for it,
– Cedega Import will let you import your Cedega games,
– Wine Look will help you to change the color of your Wine application to fit better with your desktop,
– Advanced Wine Configuration will give you access to a lot of tweaks for Wine,
– Offline PlayOnLinux will allow you to run PlayOnLinux without internet access, by running locally a server script.

Per installare PlayonLinux su Ubuntu abbiamo 2 possibilità la prima scaricando il pacchetto .deb dal sito del produttore o direttamente da QUESTO link cliccarci sopra e confermare oppure (il metodo migliore)  integrando i repository nella nostra Distribuzione. Installando Play on Linux con questo metodo in caso di future nuove versioni dell'applicazione potremo aggiornare alla successiva versione semplicemente aggiornando la Distribuzione.
Ecco come fare per installare PlayonLinux da Repository:
Avviamo il terminale e scriviamo
Per Ubuntu 10.04 Lucid
sudo wget http://deb.playonlinux.com/playonlinux_lucid.list -O /etc/apt/sources.list.d/playonlinux.list && sudo apt-get update
Per Ubuntu 9.10 Karmic
sudo wget http://deb.playonlinux.com/playonlinux_karmic.list -O /etc/apt/sources.list.d/playonlinux.list && sudo apt-get update
Per Ubuntu 9.04 Jaunty
sudo wget http://deb.playonlinux.com/playonlinux_jaunty.list -O /etc/apt/sources.list.d/playonlinux.list && sudo apt-get update
Per Ubuntu 8.10 Intrepid
sudo wget http://deb.playonlinux.com/playonlinux_intrepid.list -O /etc/apt/sources.list.d/playonlinux.list && sudo apt-get update

ora  installiamo Play on LinuX con un semplice:

sudo apt-get install playonlinux
e confermiamo. Ora avremo la nostra PlayonLinuX installata nella nostra Distribuzione