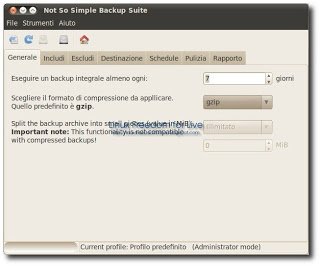 Un problema in cui si può incorrere, è la perdita inaspettata di parte del proprio lavoro e delle impostazioni per un motivo o un altro. Le cause di tali perdite di dati sono molte e varie: da una interruzione nell'alimentazione elettrica all'eliminazione accidentale di un file. È altamente raccomandato creare copie di backup regolari di tutti i file importanti in modo che, incontrando un problema, tali file non vengano persi.
Not So Simple Backup suite
  è un'utility che permette di eseguire il backup di una o più cartelle in modo da avere sempre una copia di sicurezza dei dati importanti. L'applicazione è estremamente semplice da utilizzare e dispone di un'interfaccia intuitiva. È possibile selezionare la cartelle su cui eseguire l'operazione e dire al sistema di ripetere il backup ogni "X" minuti. Inoltre l'utente può decidere di eliminare i file presenti nella copia nel caso in cui questi siano stati cancellati dalle cartelle originali.
Ecco le novità della nuova versione 0.3.1 tratte dal sito del produttore:
* nssbackup-upgrade-backups and nssbackupd crashes when starting nssbackup-restoration-gui
* Unable to save configuration as superuser: OSError-File  exists (broken links were not removed before overwriting)
* Misleading option label: nssbackup is not cleaning up incomplete/corrupt backups
* translations updated

Per installare Not So Simple Backup Suite su Ubuntu 10.04 Lucid e 10.10 Maverick avviamo il terminale e digitiamo:
sudo add-apt-repository ppa:nssbackup-team/ppa && sudo apt-get update
sudo apt-get install nssbackup
e confermiamo.
Ora avremo la nostra NSsbackup installata nella nostra Distribuzione
In caso di future nuove versioni ci basterà aggiornare la nostra Distribuzione.