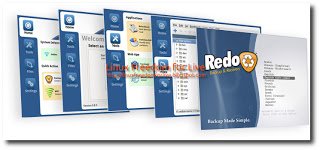 Redo Backup è un'ottima distribuzione che contiene numerosi ed affidabili strumenti di backup dotati di interfaccia grafica. Tra le principali caratteristiche della distribuzione troviamo la possibilità di essere utilizzata da Live CD o da penna USB, molto semplice da utilizzare bastano pochi click del mouse per salvare tutti i dati più importanti memorizzati sulla nostra Distribuzione. Tra le altre funzionalità troviamo il recovery di dati eliminati dal disco e la possibilità di accedere facilmente al Web per  tramite Mozilla Firefox.
Ecco le principali caratteristiche tratte dal sito del produttore:
    * Easy graphical user interface boots in less than a minute
    * No installation needed; runs from a CD-ROM or a USB stick
    * Saves and restores Windows and Linux machines
    * Automatically finds local network shares
    * Access your files even if you can't log in
    * Recover deleted pictures, documents, and other files
    * Internet access with Firefox to download drivers
    * Download size is less than 75MB
Ecco le novità della nuova versione 0.9.3:

  * Warning: Not interoperable with images from previous versions
  * Updated partclone to version 0.2.12
  * Save partclone error log to /partclone.log during each operation
  * Split backup images into 2GB files rather than saving one giant file
  * Added GZIP compression to reduce size of backup image
  * Backup saves first 32768 bytes rather than 512 when imaging MBR
  * Partition list saved to *.backup instead of *.redo
  * Fixed missing nmap dependencies so that local FTP servers are found
  * USB installation now detects if CD is in /dev/scd0 or /dev/sdc1
  * Stronger warning before overwriting all data to destination drive
  * Decision to abort restoration now aborts (continued either way before)
  * Abort restore if destination drive is smaller than the original
  * Do not allow partition being saved to be selected as the destination
  * Warn when restoring to the same drive the backup image is being read from
  * Minor graphic adjustment to title image
  * Removed kernel boot option "quiet" so users can see it is booting
  * Removed kernel boot option "noisapnp" (added by default in xPUD project)
  * Splash screen implemented on USB stick installations
  * Modified boot menu appearance and help text
Per maggiori informazioni consiglio di consultare il sito del produttore accessibile direttamente dal link posto qui sotto.