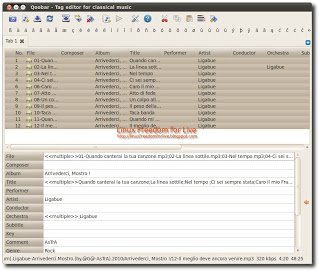 Qoobar  è una semplice applicazione per editare manualmente i tags dei propri files musicali; correggere e completare automaticamente i tags dei propri files audio. Utilizzare l'applicazione è molto semplice basta cliccare su "Add Directory" e selezionare i file o un'intera cartella, tutti i file da noi scelti verranno visualizzata nell'apposito spazio, ora possiamo modificare o ciascun file o tutti insieme, Per Salvare le nostre modifiche sui file basta cliccare su "Rename Files" ed ecco i nostri tag modificati.
Ecco le principali caratteristiche dell'applicazione tratte dal sito del produttore:

– Edit ID3v2.4, Xiph.org, APE, ASF tags
– Edit tags in MP3, Ogg/Vorbis, FLAC, MPC, Speex, TrueAudio, WavPack, and (in Unix) Wma/Asf files.
– Edit any tags in group of files, giving the same or individual value.
– Edit the following tags: Composer, Album, Title, Performer (added to enhance classical music tags), Artist, Comment, Genre, Year, Track Number, Total Tracks.
– Add your own tags and save them.
– Generate tags from filenames.
– Rename / copy / move files by its tags.
– Fix broken Windows 1251 encoding.
Per installarlo su Ubuntu 10.04 Lucid, 9.10 Karmic e 9.04 Jaunty basta scaricare il file .deb dal link posto sotto cliccarci sopra e confermare oppure aprire il terminale  e scrivere:
sudo dpkg -i *.deb
e poi
sudo apt-get install -f
confermiamo e alla fine avremo il nostro Qoobar installato.
download qoobar_1.2.2-1_i386.deb
download qoobar_1.2.2-1_amd64.deb      
download qoobar-1.2.2-src.tar.gz