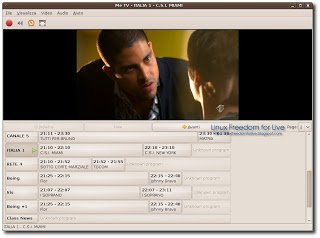 Rilasciato un nuovo aggiornamento di Me Tv una delle migliori applicazioni per guardare il Digitale Terrestre sulla nostra Distribuzione. L'applicazione supporta tutti i servizi che utilizzano lo standard DVB. Funziona con card TV DVB-T e DVB-C che abbiano il supporto per il driver del kernel e utilizza xine video player.
MeTV legge i dati Electronic Program Guide (EPG) per utilizzare la funzione della programmazione delle registrazioni
Ecco le novità della nuova versione 1.3.1 tratte dal sito del produttore:
 * Fixed issue with hyphens in man page
 * Made window hide more responsive
 * Treating a single hyphen in the EPG subtitle as blank
 * Added Watch Now button to EPG event dialog
 * Status icon now shows SR description rather than channel description for SRs
 * Added CZ scan range (patch from Luboš Staněk)
 * Fixed issues with non-translatable strings in UI file (patch from Luboš Staněk)
 * EPG thread now stays running when no streams are in running
 * Better message when unable to talk to gnome-screensaver
 * Scheduled recording manager should now only save if dirty
 * Preferred language is now an entry
Ecco come installare/aggiornare MeTV su Ubuntu 10.04 Lucid
Apriamo il terminale e per prima cosa installiamo la la chiave d'autentificazione e i repository copiando quanto riportato sotto:
sudo add-apt-repository ppa:me-tv-development/ppa && sudo apt-get update

ora se abbiamo MeTV installata in una versione precedente basterà aggiornare la nostra Distribuzione altrimenti installiamo MeTV con un semplice:
sudo apt-get install me-tv
e confermiamo. Ora avremo la nostra MeTV installata/aggiornata nella nostra Distribuzione
Per Installare l'applicazione nelle versioni precedenti di Ubuntu consiglio QUESTO post
In caso di future nuove versioni ci basterà aggiornare la nostra Distribuzione.