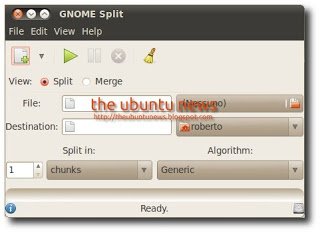 GNOME Split è una semplice applicazione, scritto in Java e utilizza una interfaccia utente GTK (grazie al progetto java-gnome), per dividere in file più piccoli un file più grande e permette di ricomporre il tutto.
Ecco le novità della nuova versione 0.8 tratte dal sito del produttore:
* Reorganize GTK+ interface state code.
* Remove some dead code.
* Update configure file for Gentoo, Fedora and ArchLinux.
* Fix computer hibernation inhibition.
* Use IEC standard units (KiB, MiB, GiB).
* Use glib function to format byte sizes to strings.
* Remove deprecated GTK+ methods.
* Add accelerators to menu items.
* Use GTK+ info bar instead of dialog for information.
* Automatic resize for the main window.
* Change cursor state according to the interface state.
* Update French translation (Guillaume Mazoyer).
* Add Galician translation (Marcos X, Xosé).
* Update German translation (Fabian Affolter, Janis
Fehrmann, Mario Blättermann, Nasenbaer, xlazarus).
* Add Portuguese translation (Ricardo Ferreira).
* Add Spanish translation (Marcos Escalier, victor tejada yau).
Ecco come installare/aggiornare GNOME Split 0.8 su Ubuntu 9.10 Karmic e 10.04 Lucid
Apriamo il terminale e per prima cosa installiamo la la chiave d'autentificazione  e i Repository alla nostra Distribuzione scrivendo:
sudo add-apt-repository ppa:gnome-split-team/ppa && sudo apt-get update

ora se abbiamo GNOME Split installata in una versione precedente basterà aggiornare la nostra Distribuzione altrimenti installiamo GNOME Split con un semplice:

sudo apt-get install gnome-split

e confermiamo. Ora avremo GNOME Split installato nella nostra Distribuzione
In caso di future nuove versioni ci basterà aggiornare la nostra Distribuzione.