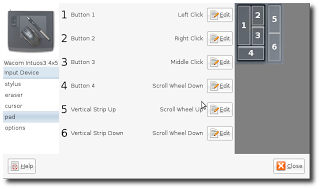 Wacom Control Panel è una semplice applicazione attraverso la quale potremo configurare al meglio e facilmente la nostra tavoletta grafica.
Ecco le caratteristiche dell'applicazione tratte dal sito del produttore:
This utility allows you to:
– Set up tablets in xorg.conf automatically
– Automatically detect and configure a wide range of wacom products
– Set custom key commands or mouse buttons to a tablet's shortcut buttons
– Set custom pressure curve on each of the tablet's input devices
– Automatically remembers and reapplies settings on startup
– At present, serial tablets and Intuos 4 are not yet supported. If it doesn't work for you, submit a comment on here so I can fix it.
Ecco le novità della nuova versione 1.13:
 Fixes issue with button mapping on PTZ-431W tablets
Per installarlo su K|X|Ubuntu basta scaricare il file .deb dal link posto sotto cliccarci sopra e confermare oppure aprire il terminale recarsi dentro la cartella e scrivere:
sudo dpkg -i *.deb
e poi
sudo apt-get install -f
confermiamo e alla fine avremo il nostro Wacom Control Panel installato.