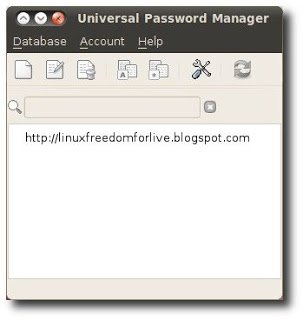 Universal Password Manager
permette di gestire le proprie usernames, passwords, URLs con sicurezza, tenendole in un database criptato accessibile solo mediante una "master password".
Ecco le novità della nuova versione 1.6 tratte dal sito del produttore:

· This version adds the ability to export/import from/to a CSV file, adds a random password generator, removes the dependency on JCE Unlimited Strength Jurisdiction Policy Files, adds support for using HTTPS URLs with database sharing, and adds a Spanish translation.
UPM  è un'applicazione scritta in Java quindi per funzionare deve essere installato Java nella nostra Distribuzione. Per installarlo su qualsiasi Distribuzione Linux basta scaricare il file .tar.gz dal link posto sotto ed estrarlo in una cartella.
Avviamo il terminale e rechiamoci dentro la cartella dove è stato precedentemente estratto il file e scriviamo:

java -jar upm.jar
facendo questo avremo il nostro UPM  avviato.