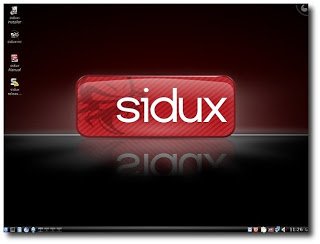 Sidux è una distribuzione GNU/Linux basata su Debian Sid. Debian è tra le distribuzioni Linux più trascurata dai nuovi utilizzatori di Linux perché reputata, a torto o a ragione, troppo difficile da installare, configurare e mantenere, richiedendo l'utilizzo di comandi da console o l'editing di file di configurazione. Lo scopo di sidux è fornire strumenti e supporto per rendere Debian Sid semplice da configurare e abbastanza stabile sia per l'utenza desktop che per quella professionale.
Ecco le principali novità della nuova versione 2010-01:

Now that KDE 4.4.4 and kernel 2.6.34 have entered the archive, we have the pleasure to announce the immediate availability of the final sidux 2010-01 'Hypnos' release. While waiting for the availability of KDE 4.4.x, 'Hypnos' development concentrated on overhauling the early boot sequence for live and installed systems with regards to concurrent dependency-based booting and the integration of kernel 2.6.34. sidux now uses CONCURRENCY=makefile and continues to embrace GRUB 2 on the installed system, with isolinux and an improved gfxboot theme on the live system. KDE-based ISO images can now make use of Partition Manager instead of GParted. As usual, a large number of individual functionality enhancements and bug fixes have been applied to the full package line-up
Se vogliamo conoscere tutte le novità della nuova versione 2010.01 consiglio di consultare QUESTA pagina.
Per maggiori informazioni consiglio di consultare il sito del produttore accessibile direttamente dal link posto qui sotto.