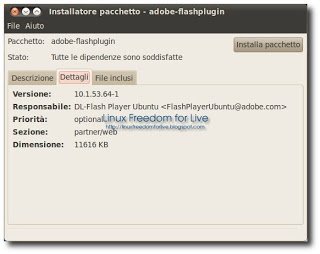 Adobe ha reso disponibile la nuova versione  di Flash Plugin 10.1. La principale novità è il supporto all'accelerazione video in hardware fornito dalle moderne GPU: una caratteristica che fornisce una maggiore fluidità nella riproduzione dei filmati HD in Flash (come quelli di YouTube) e che, secondo Adobe, contribuisce anche a contenere i consumi.
Ecco le novità della nuova versione 10.1.53.64 tratte dal sito del produttore:
 A critical vulnerability has been identified in Adobe Flash Player version 10.0.42.34 and earlier. This vulnerability (CVE-2010-0186) could subvert the domain sandbox and make unauthorized cross-domain requests.
· Adobe recommends users of Adobe Flash Player 10.0.42.34 and earlier versions update to Adobe Flash Player 10.0.45.2.
Per installare/aggiornare Flash Plugin su Ubuntu e Debian basta scaricare il file .deb dal link posto sotto cliccarci sopra e confermare oppure aprire il terminale  e scrivere:
sudo dpkg -i *.deb
e poi
sudo apt-get install -f
confermiamo e alla fine avremo il nostro Flash Plugin installato/aggiornato.
Inoltre possiamo installarlo anche da repository partner di Canonical per installarlo / aggiornarlo basta avviare il terminale e scrivere:
sudo add-apt-repository "deb http://archive.canonical.com/ lucid partner"  && sudo apt-get update &&  sudo apt-get install adobe-flashplugin
confermiamo e al termine avremo il nostro flash installato/aggiornato.

Per maggiori informazioni consiglio di consultare il sito del produttore accessibile direttamente dal link posto qui sotto.