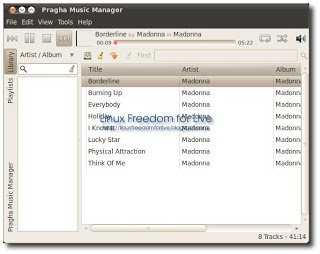 Pragha è un semplice player musicale, basato su GTK, SQLite, e completamente scritto in C, prodotto per essere veloce, leggero, e allo stesso tempo completo. Pragha era originariamente derivato di Consonance Music Manager (http://sites.google com / site / consonancemanager /), Interrotta dall'autore originale.
Ecco le principali novità della nuova versione 0.7.7.1 tratte dal sito del produttore:
– Fix Issue 14: Pragha can not remember the starting position.
– Remember correctly window position when click status icon or close window.
– Never add files recursively with dbus and command line. Freeze Pragha.
Per installarlo su Ubuntu 10.04 Lucid basta scaricare il file .deb dal link posto sotto cliccarci sopra e confermare
pragha_0.7.7.1-1~lffl~lucid~ppa_i386.deb
pragha_0.7.7.1-1~lffl~lucid~ppa_amd64.deb
L'applicazione è presente nei repository Linux Freedom for Live per maggiori informazioni consultae QUESTO articolo