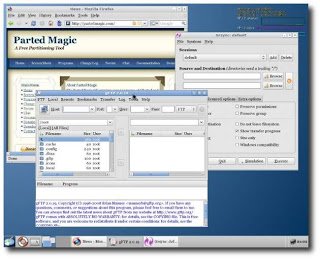 Parted Magic è una distribuzione GNU/Linux Live CD/USB/PXE specificatamente creata e dedicata per il partizionamento e la gestione delle partizioni del proprio hard disk. Questa particolare distribuzione affianca il celebre GParted, con i migliori programmi Open Source dedicati al partizionamento ed operazioni varie di gestione e manutenzione delle partizioni. Parted Magic, offre supporto ai file system più diffusi, tra cui ricordiamo: ext2, ext3, ext4, fat16, fat32, hfs, hfs+, jfs, linux-swap, ntfs, ocfs2, reiserFS, reiser4, xfs, zfs.
Ecco le novità della nuova versione 4.11 tratte dal sito del produttore:
Parted Magic 4.11. This version of Parted Magic updates FSArchiver 0.6.10, gDisk 0.6.7, LFTP 4.0.7, OpenSSH 5.5p1, Chromium 6.0.424.0, Linux kernel 2.6.32.15, Parted 2.3, NTFS-3G 2010.5.22, syslinux 3.86, udev 157. Xarchiver was removed in favor of using File Roller for the archive manager. To be as useful as possible while keeping the same lightweight philosophy these programs were added: lm_sensors 3.1.1, Perl 5.10.1, Clonezilla 2.3.5-21, unrar 3.9.7, vmfs-tools 0.2.1. Some major effort went into this release and I hope you enjoy it. Next release will most likely include a newer X.Org and Linux kernel. I would also like to thank burdi01 for his efforts improving the init scripts and his future work on the keyboard selection program
Per maggiori informazioni consiglio di consultare il sito del produttore accessibile direttamente dal link posto qui sotto.