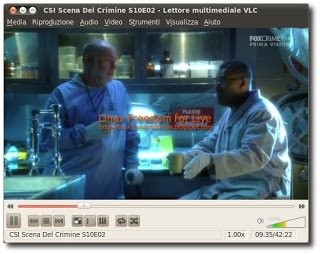 VLC (inizialmente battezzato col nome di VideoLAN Client) è un player multimediale che permette di riprodurre praticamente tutti i formati audio/video più diffusi (MPEG-1, MPEG-2, MPEG-4, DivX, MP3, OGG e così via) oltre a DVD, VideoCD (VCD) e ad altri protocolli di streaming. Il programma supporta tutti i principali codec audio/video (compresi DivX e XVid): non è quindi necessario installare alcunché sul vostro personal computer per visualizzare filmati memorizzati in tali formati.
Ecco le novità della nuova versione 1.1.0 tratte dal sito del produttore:
· GPU and DSP decoding, depending on the platform
· Faster and more stable
· New codecs and HD codecs enhancements
· Webm and VP8 support
· MKV, mp4 and avi improvements
· Extensions
· Important code cleanup and rewrite
· Interface and playlist reworked
· Completely Free
Per installare / aggiornare Vlc 1.1.0 su K | X | Ubuntu 10.04 Lucid occorre integrare i repository Linux Freedom for Live per farlo basta avviare il terminale e scrivere:
sudo add-apt-repository ppa:ferramroberto/linuxfreedomlucid && sudo apt-get update
sudo apt-get install vlc mozilla-plugin-vlc

e confermiamo.
Ora avremo la nostra Vlc 1.1.0 installata/aggiornata nella nostra Distribuzione