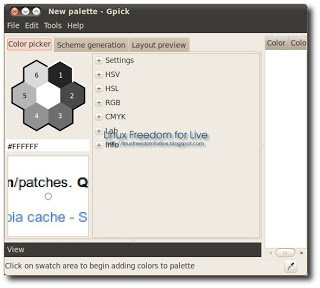 gpick è un'applicazione  per la gestione del colore attraverso vari strumenti di creazione e modifica. È scritto in C + + ed utilizza toolkit GTK + per l'interfaccia utente.
Ecco le principali caratteristiche dell'applicazione tratte dal sito del produttore:

Fast color picking
Magnified screen area
Colors automatically named
Palette export function
Picked colors can be copied to clipboard in multiple formats
Oversampling with five falloff types
Mix two or more colors using variable number of steps and different mixing types
Create lightness and/or saturation variations
Create harmonious colors
 
Ecco le novità della nuova versione 0.2.2 tratte dal sito del produttore:
Palette creation from images
Scheme generation colors can now be tweaked individually
New color wheels with multiple color spaces
Palette preview widgets are drag&drop sources
User interface improvements
Per installarlo su Ubuntu e Debian basta scaricare il file .deb dal link posto sotto cliccarci sopra e confermare oppure aprire il terminale recarsi dentro la cartella e scrivere:
sudo dpkg -i *.deb
e poi

sudo apt-get install -f
confermiamo e alla fine avremo il nostro gpick installato.
Per maggiori informazioni consiglio di consultare il sito del produttore accessibile direttamente dal link posto qui sotto.
home
download gpick-0.2.2_i386.deb
download gpick-0.2.2_amd64.deb
download gpick-0.2.2.tar.gz