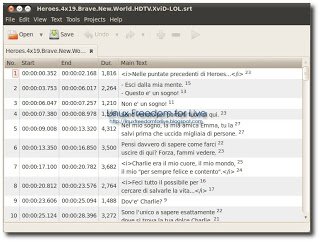 Gaupol è un editor di sottotitoli per file di sottotitoli basati su testo. I sottotitoli basati su testo sono comunemente usati con video DivX. Gaupol supporta molti formati di file con sottotitoli e fornisce i mezzi per fare correzioni dei testi e manipolazione dei tempi. L'interfaccia utente di Gaupol è progettata con attenzione all'elaborazione in blocco di documenti multipli e ad una comoda traduzione.
Ecco le novità della nuova versione 0.16 tratte dal sito del produttore:
This release introduces mostly structural changes and migration to newer technologies. User interface independent code has been split to a separately installable package called "aeidon". Glade has been replaced with GtkBuilder for user interface construction and ConfigObj has been replaced with Python's JSON module for reading and writing configuration files. A large amount of small improvements have been made and a large amount of bugs have been fixed. The interactive search can now look for times if the search string contains a colon. Launching a video player on Windows systems has been fixed. Freezing recent file menus have probably been fixed. See the news file for all changes.
Per installarlo su Ubuntu 10.04 Lucid basta scaricare il file .deb dal link posto sotto cliccarci sopra e confermare oppure aprire il terminale recarsi dentro la cartella e scrivere:
sudo dpkg -i *.deb
e poi

sudo apt-get install -f
confermiamo e alla fine avremo il nostro Gaupol installato.
L'applicazione è disponibile nei Repository Linux Freedom for Live, per installarla tramite repository basta avviare il terminale e scrivere:
sudo add-apt-repository ppa:ferramroberto/linuxfreedomlucid && sudo apt-get update && sudo apt-get install

confermiamo e alla fine avremo il nostro Gaupol installato
Per maggiori informazioni consiglio di consultare il sito del produttore accessibile direttamente dal link posto qui sotto.