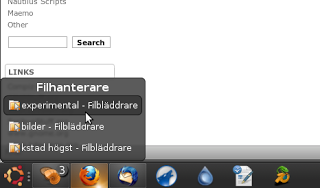 Dockbarx è una dockbar per il pannello di Gnome che vi consente di aggiungere al vostro ambiente desktop quasi le stesse funzionalità della superbar di Windows 7
Ecco le novità della nuova versione 0.39.4 tratte dal sito del produttore:


– DockbarX can now pin wine applications and is better at recognizing wine application launchers automatically.
– The preference dialog is redesigned to take less space (should even fit a eeepc 700 screen now) and to have the options in more intuitive places. 
– Changing between showing and not showing previews doesn't require reloading DockbarX anymore.
– New translations added.
Ecco come installare la nuova versione 0.39.4 au Ubuntu 10.04 Lucid:
Per prima cosa integriamo i repository nella nostra distribuzione per farlo avviamo il terminale e scriviamo:
sudo add-apt-repository ppa:dockbar-main/ppa && sudo apt-get update
ora installiamo l'applicazione:
sudo apt-get install dockbarx gnome-dockbarx-applet dockbarx-themes-extra
Una volta installato portiamoci in un punto del pannello del nostro Gnome e con il tasto destro clicchiamo su Aggiungi al Pennello e scegliamo DockbarX Applet e clicchiamo su Aggiungi
Per vedere le anteprime delle finestre basta andare in Preferenze -> Advanced e selezioniamo Show Previews.