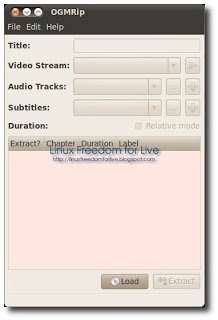 OGMRip è un applicazione e un insieme di librerie per effettuare operazioni di ripping e encoding di DVD in formati come AVI, OGM, MP4 o Matroska usando un ampia varietà di codec. Per effettuare tutte le sue operazione il programma utilizza mplayer, mencoder, ogmtools, mkvtoolnix, oggenc, lame e faac quindi sono richieste come dipendenze a seconda delle funzionalità che si vogliono utilizzare del programma.
L'interfaccia è molto semplice ed intuitiva, si è cercato di nascondere tutte le esoteriche configurazione che si potrebbero ottenere proprio per renderla tale.
Ecco le novità della nuova versione 0.13.5 tratte dal sito del produttore:
· transcodes from DVD or files
· outputs OGM, AVI, MP4, or Matroska files
· supports a lot of codecs (Vorbis, MP3, PCM, AC3, DTS, AAC, XviD, LAVC, X264, Theora)
· calculates video bitrate for a given file size
· autodetects cropping parameters and scaling factors
· supports multiple audio and subtitles streams encoding
· extracts subtitles in SRT or VobSub format
· uses maximum quality codecs switches
· rips contiguous chapters
· supports external audio (PCM, MP3, AC3, DTS, AAC, Vorbis) and subtitles (MicroDVD, SubRip, SRT, Sami, VPlayer, RT, SSA, PJS, MPSub, AQT, JacoSub, VobSub) files
· provides customisable encoding profiles
· is extensible through plugins
Per installare/aggiornare OGMRip  su Ubuntu 10.04 Lucid  basta scaricare il file .tar.gz dal link posto sotto ed estrarlo in una cartella. Avviamo il terminale e rechiamoci dentro la cartella dove è stato precedentemente estratto il file e scriviamo:
sudo dpkg -i *.deb
e poi
sudo apt-get install -f
confermiamo e alla fine avremo il nostro OGMRip installato/aggiornato.
In alternativa possiamo integrare i repository Linux Freedom for Live da QUESTO  post e avviare il terminale e scrivere
sudo add-apt-repository ppa:ferramroberto/linuxfreedomlucid && sudo apt-get update && sudo apt-get install ogmrip

confermiamo e alla fine avremo il nostro OGMRip installato.
Per maggiori informazioni consiglio di consultare il sito del produttore accessibile direttamente dal link posto qui sotto.

home
download Ubuntu 10.04 Lucid 32 bits
download Ubuntu 10.04 Lucid 64 bits