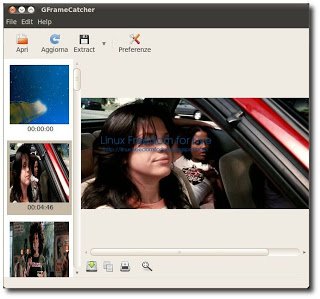 GFrameCatcher è una semplice applicazione che consente l'acquisizione di fotogrammi da un file video. Possiamo salvare più fotogrammi come miniature in un unico file. Altrimenti possiamo salvare una serie di fotogrammi determinandone sia la risoluzione che il formato.
Ecco le novità della versione 1.4 tratte dal sito del produttore:
· Migrate code from libglade to GtkBuilder.
· Fixed end of stream loop bug in a few clips.
· Source code cleanup.

Se vogliamo installare GFrameCatcher sul nostro Ubuntu e Debian basta scaricare in una cartella i file .deb dal link posto sotto aprire il terminale e recarsi dentro la cartella e scrivere:

sudo dpkg -i *.deb
e poi

sudo apt-get install -f
confermiamo e alla fine avremo GFrameCatcher installato
Per installarlo su Fedora, Mandriva e openSUSE basta scaricare il file .rpm dal link posto sotto cliccarci sopra e confermare oppure aprire il terminale e scrivere:

rpm -ivh *.rpm
e confermare al termine avremo GFrameCatcher installato.
Per maggiori informazioni consiglio di consultare il sito del produttore accessibile direttamente dal link posto qui sotto.
home
download gframecatcher_1.4-1_all.deb
download gframecatcher-1.4-1.noarch.rpm
download gframecatcher-1.4.tar.gz