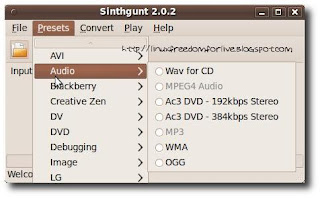 Sinthgunt è una semplice applicazione che può convertire audio e video digitali in numerosi formati. Utilizzando le impostazioni di conversione pre-configurato, rende il compito di convertire tra diversi media in maniera molto facile. Indicato per convertire File Audio e Video per i nostri Dispositivi Mobili.  Utilizzare l'applicazione è semplicissimo basta cliccare su Input e selezionare il file  poi cliccare si Presets e selezionare il modello del mobile da convertire il nostro File e  cliccare si Convert.
Ecco le principali caratteristiche tratte dal sito del produttore:
    * Sinthgunt is an easy to use gui for ffmpeg
    * It has more than 100 pre-configured conversion settings
    * It automatically detects which presets are supported by your version of ffmpeg
    * It is easy to extend, since the conversion settings are stored in a xml file
    * Sinthgunt is purely open source, written in Python and licensed under GNU GPLv3
Per installarlo su K|X|Ubuntu basta scaricare il file .deb dal link posto sotto cliccarci sopra e confermare oppure aprire il terminale  e scrivere:
sudo dpkg -i *.deb
e poi

sudo apt-get install -f
confermiamo e alla fine avremo il nostro Sinthgunt installato.
Per maggiori informazioni consiglio di consultare il sito del produttore accessibile direttamente dal link posto qui sotto.
home
download sinthgunt_2.0.2_all.deb
download sinthgunt-2.0.2.tar.gz