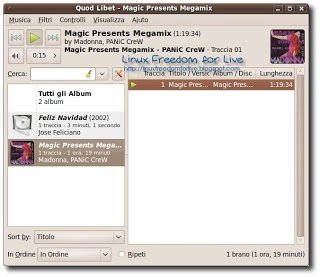 Quod Libet è un gestore e riproduttore musicale basato su GStreamer.  L'applicazione è consigliabile per chi usa un sistema alternativo alla suite GNOME, poiché è in generale più "piccolo" e meno legato a dipendenze particolari rispetto a Rhythmbox (quest'ultimo infatti dipende da Nautilus, il quale richiede che parecchie dipendenze di GNOME vengano installate.)
In aggiunta al player, Quod Libet fornisce anche il potente tag editor Ex Falso (a mio giudizio più veloce e funzionante di easytag).
Fra le caratteristiche di Quod Libet:

    * browser musicale di facile utilizzo
    * ricerca
    * supporto a vari formati audio tramite GStreamer
    * gestione Playlist facilitata

Ecco le novità della nuova versione 2.2.1 tratte dal sito del produttore:
  * Fixes release 2.2 regressions related to:
    – Importing some mp3 files.
    – Device backend (iPod, multi partition DAPs).
    – Renaming keys with different values across files.
  * Change priority of quodlibet-ext to extra.
  * Remove 10-desktop-file-encoding.patch, now included upstream.
Per installare/aggiornare Quod Libet ed Ex Falso su Ubuntu 9.10 Karmic creiamo una cartella e scarichiamo tutti i file.deb dal link posto sotto e avviamo il terminale e rechiamoci dentro la cartella appena creata contenete i file appena scaricati e scriviamo:
sudo dpkg -i *.deb
e poi
sudo apt-get install -f
confermiamo e alla fine avremo il nostro Quod Libet ed Ex Falso installato.
Per maggiori informazioni consiglio di consultare il sito del produttore accessibile direttamente dal link posto qui sotto.
home
download quodlibet_2.2.1~ferramroberto~ppa_all.deb
download exfalso_2.2.1~ferramroberto~ppa_all.deb