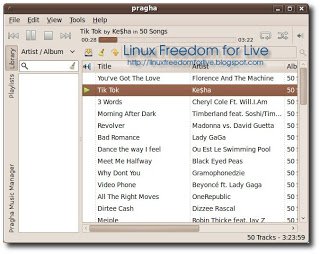 Pragha è un semplice player musicale, basato su GTK, SQLite, e completamente scritto in C, prodotto per essere veloce, leggero, e allo stesso tempo completo. Pragha era originariamente derivato di Consonance Music Manager (http://sites.google com / site / consonancemanager /), Interrotta dall'autore originale.
Ecco le principali novità della nuova versione 0.7.3 tratte dal sito del produttore:
* Drop File Pane in favor of gtk-file-chooser.
    Support for adding folders recursively in file chooser. (Based on Audacius code. /src/ui_fileopen.c)
    Support for recent files in file chooser.
    Now remember last folder used.
* Others Changes:
    Middle click on the library/playlists view append songs to current playlist.
    Queue and dequeue pressing 'Q'.
    If pragha minimized or without focus, when clicked statusicon restore mainwindow focus.
    Now the second panel is the Playlists.
    Drop album.png in favor of the icon theme instaled.
* Updates Translations:
    Spanish translation thanks to msdelos.
    Polish translation thanks to Sid.
    Update po files.
* Bugs fixed:
    Use g_get_user_config_dir() instead of g_get_home_dir() and then concatenating "/.config". Thanks to Sebcactus.
    OK/Cancel buttons in Edit Tags and Save Playlist dialog are inverted.
    When move around the library with the keyboard, this does not advance.
Per installarlo su K|X|Ubuntu basta scaricare il file .deb dal link posto sotto cliccarci sopra e confermare oppure aprire il terminale  e scrivere:
sudo dpkg -i *.deb
e poi
sudo apt-get install -f
confermiamo e alla fine avremo il nostro Pragha installato.
Per maggiori informazioni consiglio di consultare il sito del produttore accessibile direttamente dal link posto qui sotto.
home
download Ubuntu 10.04 Lucid 32 bits
download Ubuntu 10.04 Lucid 64 bits
download Ubuntu 9.10 Karmic 32 bits
download Ubuntu 9.10 Karmic 64 bits