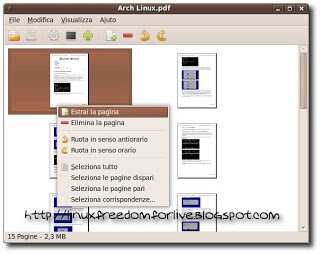 PDF Mod è una semplice applicazione per la modifica di documenti PDF. È possibile riordinare, ruotare e rimuovere le pagine, le immagini di esportazione da un documento, modificare il titolo, soggetto, autore, e le parole chiave, e combinare documenti tramite drag and drop.
Ecco le novità della nuova versione 0.8 tratte dal sito del produttore:
* Add * to beginning of window title when unsaved
* Can select more than one file in Open dialog
* shift-ctrl-z now also works for Redo
* Online docs now hosted on library.gnome.org
* Add Invert Selection action
Per installarlo su K|X|Ubuntu 10.04 Lucid dobbiamo aggiungere i repository GetDeb (se non l'abbiamo precedentemente integrati). Per farlo basta avviare il terminale e scrivere:
sudo bash -c "echo 'deb http://archive.getdeb.net/ubuntu lucid-getdeb apps' >> /etc/apt/sources.list" && wget -q -O- http://archive.getdeb.net/getdeb-archive.key | sudo apt-key add – && sudo apt-get update

e confermare.
Ora non ci resta che installare la nostra applicazione avviando il terminale e scrivendo:
sudo apt-get install pdfmod
confermiamo e al termine avremo il nostro PDF Mod installato.
In alternativa possiamo installare l'applicazione anche andando in QUESTA pagina e cliccare su Install This Now.
In caso di future nuove versioni ci basterà aggiornare la nostra Distribuzione.
Per maggiori informazioni consiglio di consultare il sito del produttore accessibile direttamente dal link posto qui sotto.