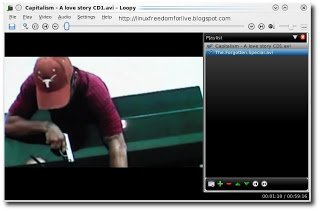 Loopy è un semplice player audio/video, specifico per ambienti desktop Kde, basato su librerie  phonon.
L'applicazione offre in supporto Dvd, inoltre permette l'inserimento di Url per visualizzare video in straming e i video contenuti nel nostro Pc o su Memorie Usb, Hd Esterni ecc. Offre la possibilità di creare/importare/gestire playlist. Inoltre possiamo modificarne il tema con altri (già presenti nell'applicazione) Supporta i principali formati Audio/Video.
Personalmente lo ritengo un'ottima alternativa a Dragon Player, ricordo che l'applicazione è ancora in fase di sviluppo ma ha ottime possibilità di diventare un player di alto livello.
Ecco le novità della nuova versione 0.5.2 tratte dal sito del produttore:
– Added restore windowstate after crash, fullscreen exit etc.
– Added MessageBox: "You get back to normal view with the F3 key"
– Added toolbutton "Reload theme", usefull for theme devolpers 😉
– Added new theme: graygradients
– Updated THEMING
– Updated german translation
Per installarlo su Kubuntu 9.10 Karmic e 10.04 Lucid basta scaricare il file .deb dal link posto sotto cliccarci sopra e confermare oppure aprire il terminale  e scrivere:

sudo dpkg -i *.deb

e poi

sudo apt-get install -f
confermiamo e alla fine avremo il nostro Loopy installato.
home Loopy
download Ubuntu 10.04 Lucid 32 bits
download Ubuntu 10.04 Lucid 64 bits
download Ubuntu 9.10 Karmic 32 bits
download Ubuntu 9.10 Karmic 64 bits