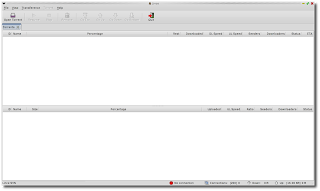 Lince è un client BitTorrent ispirato ad azureus utilizza gtkmm e libtorrent.
Ecco le novità della nuova versione 1.2 tratte dal sito del produttore:
– Core: Added support to handle magnet links
– Gui: Added support to scan directories to load torrents
– Gui: Added support to perform torrents searchings by themes.
– Gui: Download torrent dialog can now handle magnet links and directories.
– Core & Gui: Bugs fixed.
Per installarlo su K|X|Ubuntu 10.04 Lucid dobbiamo aggiungere i repository GetDeb (se non l'abbiamo precedentemente integrati). Per farlo basta avviare il terminale e scrivere:
sudo bash -c "echo 'deb http://archive.getdeb.net/ubuntu lucid-getdeb apps' >> /etc/apt/sources.list" && wget -q -O- http://archive.getdeb.net/getdeb-archive.key | sudo apt-key add – && sudo apt-get update

e confermare.
Ora non ci resta che installare la nostra applicazione avviando il terminale e scrivendo:

sudo apt-get install lince
confermiamo e al termine avremo il nostro Lince installato.
In alternativa possiamo installare l'applicazione anche andando in QUESTA pagina e cliccare su Install This Now.
In caso di future nuove versioni ci basterà aggiornare la nostra Distribuzione.
Per maggiori informazioni consiglio di consultare il sito del produttore accessibile direttamente dal link posto qui sotto.