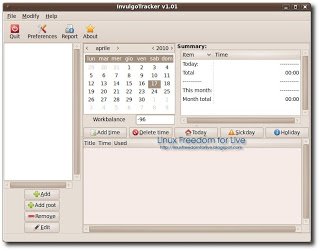 InvulgoTracker  è una semplice applicazione per il monitoraggio del tempo di utilizzo della nostra attività o dei nostri progetti. Permette di creare e mantenere traccia di quanto tempo si spende sui tasks, applicazioni, internet ecc. Inoltre possiamo avere il nostro riepilogo aggiornato sia giornalmente che mensilmente.
Ecco le novità della nuova versione 1.01 tratte dal sito del produttore:
Fixed small issue with easy insert holiday and sickday. Wrong month used for weekday calculation.

Per installarlo su K|X|Ubuntu basta scaricare il file .deb dal link posto sotto cliccarci sopra e confermare oppure aprire il terminale  e scrivere:
sudo dpkg -i *.deb
e poi

sudo apt-get install -f
confermiamo e alla fine avremo il nostro InvulgoTracker installato.
Per maggiori informazioni consiglio di consultare il sito del produttore accessibile direttamente dal link posto qui sotto.
home
download Ubuntu 10.04 Lucid 32 bits
download Ubuntu 10.04 Lucid 64 bits
download Ubuntu 9.10 Karmic 32 bits
download Ubuntu 9.10 Karmic 64 bits