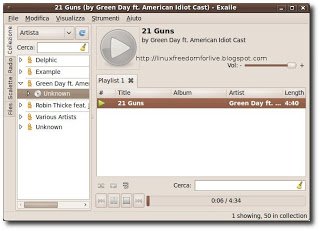 Exaile è un media player libero per GNU/Linux e sistemi operativi Unix-like basato sulle librerie GTK+. È scritto usando PyGTK, un insieme di comandi per Python del toolkit GTK+ e trae ispirazione da Amarok, famoso lettore multimediale per KDE. È un'applicazione estremamente leggera e comoda, che permette di ascoltare la musica dal proprio hard disk o in streaming via internet. Tra le tante caratteristiche della "nuova" versione 3 segnaliamo il supporto alle cover di Last.fm e quello sperimentale a gapless, un plugin per librivox, il riconoscimento automatico di CD e media player, nuovi artwork e migliorata usabilità della GUI.
Ecco le novità della nuova versione 0.3.1.1 tratte dal sito del produttore:
*  an issue that could cause exaile to be unable to run without installing was fixed
* the tagger now only writes to changed files, not all selected files
* an edge case that could result in new playlists not being saved was resolved
* album shuffle now properly respects discnumber tags and double-digit tracknumber tags
* arguments passed to the installed exaile script are now properly quoted, resolving issues with using filenames that had spaces or unusual characters in them.
* a number of additional minor issues were resolved
Per installare/aggiornare Exaile alla nuova versione 0.3.1.1 su Ubuntu 9.10 Karmic avviamo il terminale e copiamo la seguente stringa:
sudo add-apt-repository ppa:exaile-devel/ppa && sudo apt-get update

Ora se abbiamo Exaile  installata in una versione precedente basterà aggiornare la nostra Distribuzione altrimenti installiamo Exaile  con un semplice:
sudo apt-get install exaile
e confermiamo. Ora avremo la nostra Exaile installata/aggiornata nella nostra Distribuzione
In caso di future nuove versioni ci basterà aggiornare la nostra Distribuzione.
Per maggiori informazioni consiglio di consultare il sito del produttore accessibile direttamente dal link posto qui sotto.