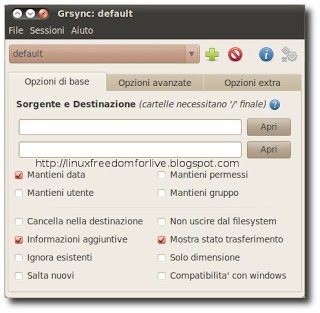 Grsync è un'applicazione specifica per la sincronizzazione di cartelle e file. L'applicazione utilizza l'interfaccia grafica per rsync, pur non implementando tutte le opzioni di rsync, permette comunque un rapido e facile uso per la semplice sincronizzazione di cartelle e file.
Ecco le novità della nuova versione 1.1.0 tratte dal sito del produttore:


A new version, 1.1.0, can now be downloaded. The main focus is fixing the annoyances found on mac os x and freebsd, while adding some nice functionalities, like status bar icon and "run as superuser". There are also some other small fixes and enhancements.
Per installarlo su K|X|Ubuntu 10.04 Lucid  basta scaricare il file .deb dal link posto sotto cliccarci sopra e confermare oppure aprire il terminale  e scrivere:
sudo dpkg -i *.deb
e poi
sudo apt-get install -f
confermiamo e alla fine avremo il nostro Grsync installato
Per avviarlo basta andare su Applicazioni -> Strumenti di Sistema -> Grsync
Per maggiori informazioni consiglio di consultare il sito del produttore accessibile direttamente dal link posto qui sotto.
home
download grsync_1.1.0_i386.deb
download grsync_1.1.0_amd64.deb