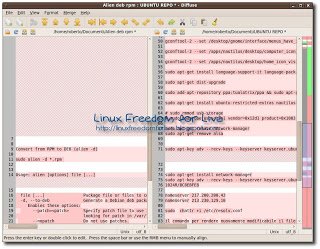 Diffuse è uno strumento grafico per la fusione e la comparazione dei file di testo. Diffuse è in grado di confrontare un numero arbitrario di file side-by-side e offre all'utente la possibilità di correggere manualmente righe e modificare i file direttamente. Diffuse supporta UTF – 8 codifica Unicode.
Ecco le novità della nuova versione 0.4.3 tratte dal sito del produttore:
· Diffuse now has Japanese and simplified Chinese localizations.
· Tabs can now be closed with the middle mouse button and quickly navigated with the right mouse button menu.
· New menu items and buttons were added for push style merge operations, dismissing edits, and recovering closed tabs.
· New preferences were also added to enable or disable line numbers and specify the behavior when quiting.
· The directory for storing configuration files now follows the XDG standard.
Per installarlo su Ubuntu e Debian basta scaricare il file .deb dal link posto sotto cliccarci sopra e confermare oppure aprire il terminale recarsi dentro la cartella e scrivere:
sudo dpkg -i *.deb
e poi
sudo apt-get install -f
confermiamo e alla fine avremo il nostro Diffuse installato.
Per maggiori informazioni consiglio di consultare il sito del produttore accessibile direttamente dal link posto qui sotto.
home
download Debian e Ubuntu
download Fedora Mandriva openSUSE
download diffuse-0.4.3.tar.bz2