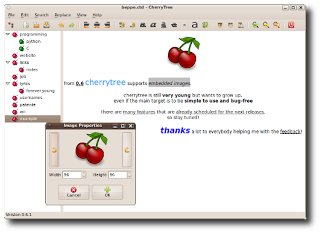 Cherrytree è un editor esadecimale e visualizzatore di pagine RTF, questo significa che con esso potremo redarre un documento mantenendo il pieno controllo sul formato del testo, sul tipo di font, sui colori e sulla formattazione della pagina.
Ecco le novità della nuova versione 0.9.6 tratte dal sito del produttore:
• improved the image serialization/deserialization, after the first save it will be faster to load and save documents containing images. cherrytree documents edited with 0.9.6 cannot be opened with former cherrytree versions (thanks Tadej)
• added in the preferences dialog the option to change the cherrytree language selecting from the available languages
• fixed node print bugs
• added the "import from keepnote" feature (thanks Zeltak)
Per installarlo su K|X|Ubuntu basta scaricare il file .deb dal link posto sotto cliccarci sopra e confermare oppure aprire il terminale  e scrivere:
sudo dpkg -i *.deb
e poi
sudo apt-get install -f
confermiamo e alla fine avremo il nostro Cherrytree installato.
Per maggiori informazioni consiglio di consultare il sito del produttore accessibile direttamente dal link posto qui sotto.
home
download cherrytree_0.9.6-1_all.deb
download archlinux
download cherrytree_0.9.6.tar.gz