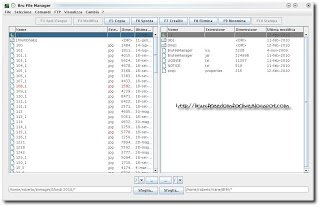 Bru File Manager è un semplice file manager e client FTP, scritto in Java, grazie al quale possiamo eseguire le normali operazioni sui file (cancellare, spostare, rinominare, …), ed inoltre cercare, confrontare e comprimere/decomprimere file, e sincronizzare le cartelle.
 
Ecco le principali caratteristiche dell'applicazione tratte dal sito del produttore:
· Copy, move, delete and rename files and directories; create directories; open, execute, edit and print files on-the-fly.
· Selective file view through regular expressions.
· Compress and extract in ZIP, JAR and GZIP formats; extract RAR archives.
· Navigation inside ZIP and JAR archives.
· File content comparison with on-the-fly editing through a built-in tool.
· Folder comparison and synchronization.
· Integrated FTP client.
· File searching, also in ZIP and JAR archives and in FTP servers.
· Dynamic Look & Feel changing.
· Available languages: English, Italian.
Ecco le novità della nuova versione 0.4 tratte dal sito del produttore:
· Many improvements in file editing during comparation;
· Many improvements in FTP activities;
· Bookmarks for FTP connections;
· File permissions management;
· Favourite directories saving through alias, no more through path;
· Management of errors caused by lack of permissions;
· Tables fields formatting improved;
· Mask changed from ALT key to CTRL key for Mac OS compatibility;
· "Files informations" functionality;
· ftp4j upgraded to version 1.5;
· Polish translation added (thanks to Tomasz Stanisz);
· Better performances;
· Many bug fixes.
Bru File Manager è un'applicazione scritta in Java quindi per funzionare deve essere installato Java nella nostra Distribuzione. Per installarlo su qualsiasi Distribuzione Linux basta scaricare il file .zip dal link posto sotto ed estrarlo in una cartella. Avviamo il terminale e rechiamoci dentro la cartella dove è stato precedentemente estratto il file e scriviamo:
java -jar BruFileManager.jar
facendo questo avremo il nostro Bru File Manager avviato.
Per semplificarci i futuri avvi consiglio di crearci un lanciatore o un collegamento con il nostro menu.
Per maggiori informazioni consiglio di consultare il sito del produttore accessibile direttamente dal link posto qui sotto.